Washington Small Business Laws|2019-2020 Changes|Infographic
Unauthorized use and/or duplication of blogposts without express and written permission is strictly prohibited. Excerpts and links may be used, provided that full and clear credit is given, and with appropriate and specific direction to the original content.
What Small Business Owners Need to Know – Downloadable Infographic
By Stacia Hofmann
Business owners and employers: are you adapting to the new Washington laws that recently went into effect – or will in the new year? Below, you'll find an infographic to help small businesses navigate through six legal changes in 2019 – 2020. New mandatory arbitration limits. Additional wrongful death beneficiaries. Restrictions on non-compete agreements. Direct employer liability for certain types of employee discrimination. Statewide paid family and medical leave. Equal pay and opportunity in salaries and wages.
Fourth quarter 2019 is an excellent time to perform an assessment and make sure your business is prepared for the current wave of legal changes affecting Washington businesses. Download the infographic in high resolution PDF here!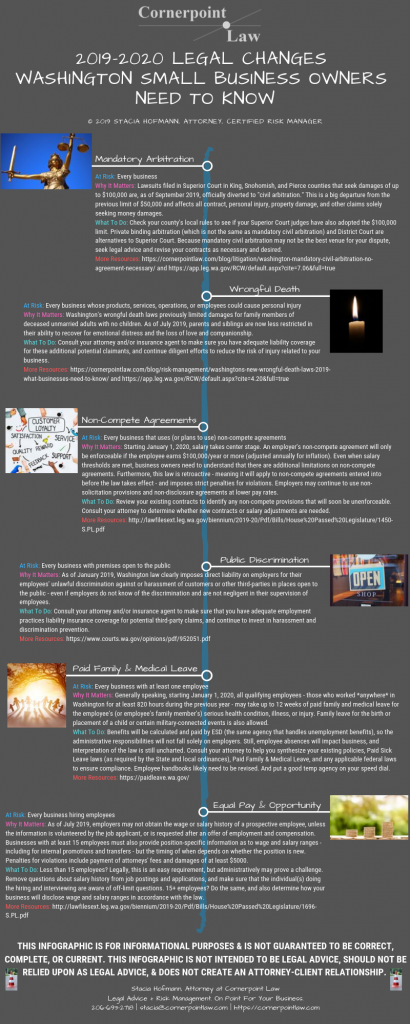 This blog is for informational purposes only and is not guaranteed to be correct, complete, or current. The statements on this blog are not intended to be legal advice, should not be relied upon as legal advice, and do not create an attorney-client relationship. If you have a legal question, have filed or are considering filing a lawsuit, have been sued, or have been charged with a crime, you should consult an attorney. Furthermore, statements within original blogpost articles constitute Stacia Hofmann's opinion, and should not be construed as the opinion of any other person. Judges and other attorneys may disagree with her opinion, and laws change frequently. Neither Stacia Hofmann nor Cornerpoint Law is responsible for the content of any comments posted by visitors. Responsibility for the content of comments belongs to the commenter alone.