June 2022 – Stacia was selected to the 2022 Super Lawyers list. More information will be shared soon!
March 2022 – Stacia co-authored a column in the March 2022 issue of Bar News Magazine, the official publication of the Washington State Bar Association. The article "Motivation, Mentorship, & Managing Your Time" featured answers from three experienced legal practitioners, including Stacia, to questions about practicing law from new attorneys.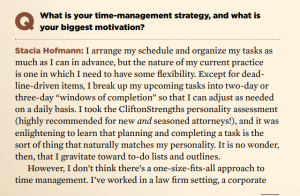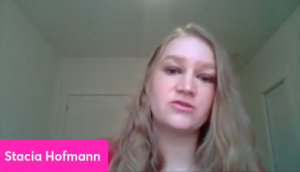 December 2021 – Stacia was invited to appear on Bold Patent's Facebook Live stream to discuss the legal benefits of limited liability companies.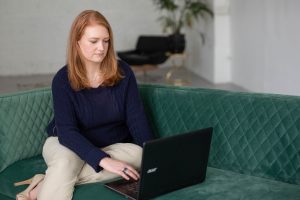 November 2021 – Cornerpoint Law celebrated six years in business with new photos and a refreshed website. We hope the new website feels modern and is easier to navigate!
March 2021 – Stacia was delighted to be featured by marketing agency The Modern Muse Company for its Friday Friends column, available here. She went to college with Modern Muse's founder and CEO, Brigette Young.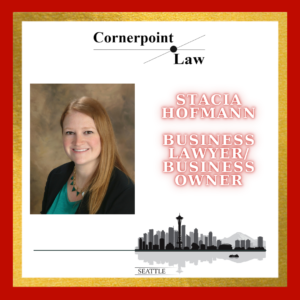 November 2020 – Cornerpoint Law's annual client appreciation event did not happen this year, but Stacia still celebrated Cornerpoint Law's 5th anniversary.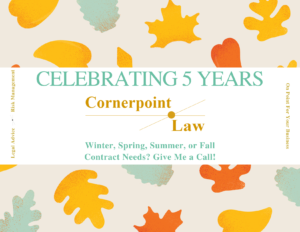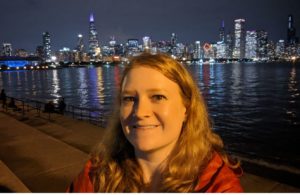 November 2020 – Stacia has volunteered in the tech mentoring program at Greenwood Senior Center, working with seniors to master their cell phones, tablets, computers, and the Web, since 2017. In November 2020, she shared 10 things about herself in a light-hearted conversation, available here, with the Phinney Neighborhood Association, which runs the Center.
June 2020 – Stacia was pleased to be selected for Washington's annual "Rising Star" list during her last year of eligibility for that designation. She was especially honored to be featured in Washington Super Lawyers Magazine, published by Thomson Reuters, in their 2020 Discovery Q&A column, "Stacia Hofmann gives high marks to Candy Crush, WSDOT Traffic and her mentors." In the article, which is available online here, Stacia reflects on her professional and personal inspirations.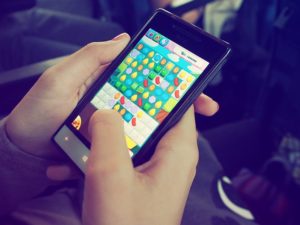 March 2020 – After serving for two years on the board of the non-profit organization Women Business Owners, Stacia and Cornerpoint Law were featured in the Member Spotlight Q&A column.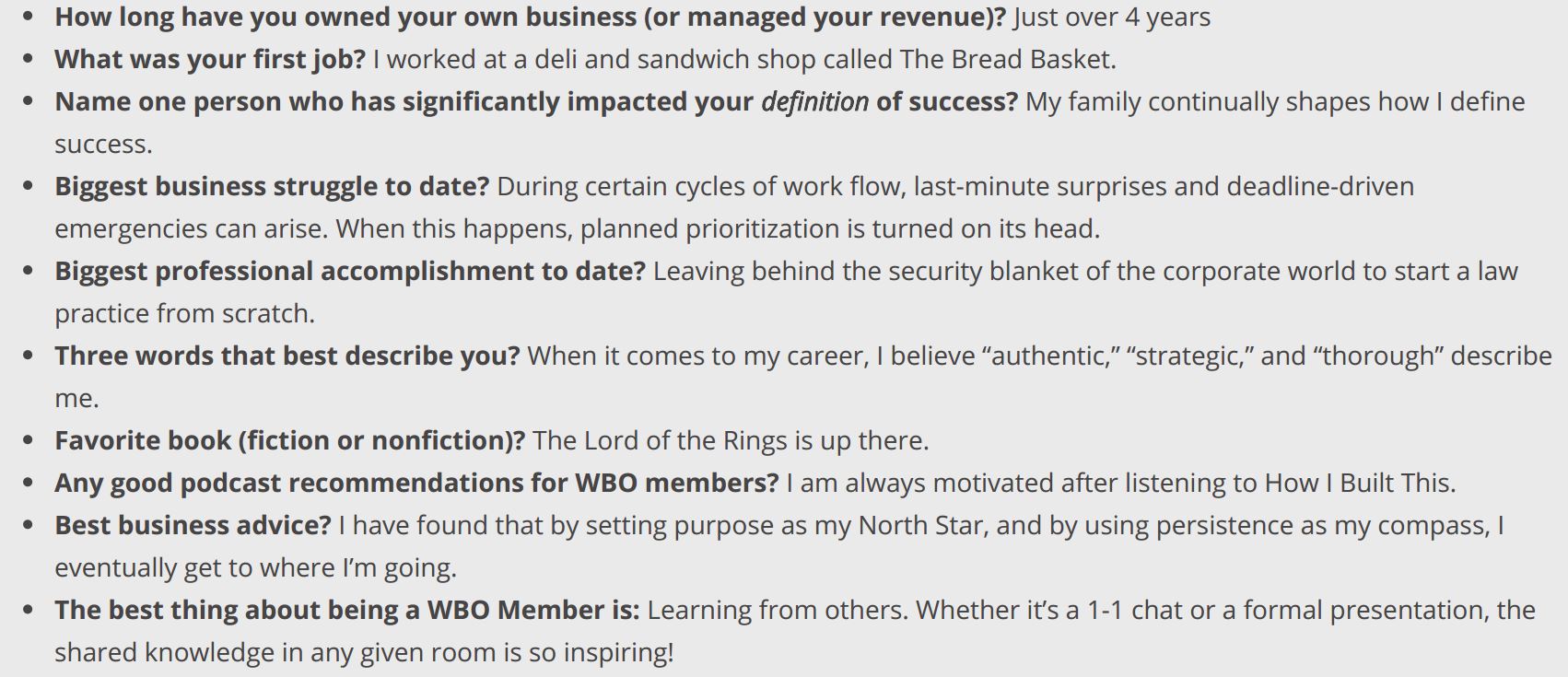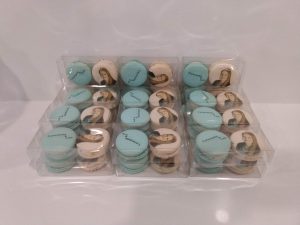 November 2019 – Cornerpoint Law celebrated its fourth anniversary, and Stacia celebrated 14 years of law practice, with a private client appreciation bowling event! Custom macaron treats were provided by Macadons. We are grateful for our supportive clients who have made the past four years possible.
June 2019 – Stacia was honored to be selected for the peer-reviewed 2019 Washington "Rising Star" list, Business/Corporate Law, issued by Super Lawyers®. Stacia has been named a Rising Star every year of eligibility since 2010. The designation is awarded to 2.5% of practicing Washington attorneys. You can read about the vetting and selection process here.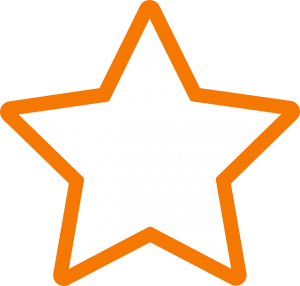 May 2019 – Electric scooters are coming to Seattle. They will join, and compete with, the City's existing bicycles shares. According to Consumer Reports, there have been at least 8 deaths tied to U.S. e-scooter shares since fall 2017, emphasizing the liability risks associated with their use. Indemnity agreements are often used to shift (or confirm) the risk of third-party claims between contracting parties. Stacia was thrilled to be quoted in The Seattle Times again, this time about indemnity agreements, risk management, and liability as it relates to injuries from scooter shares.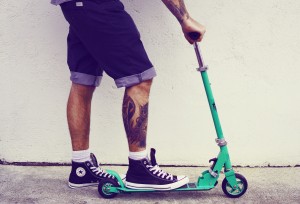 April 2019 – Stacia is part of the dynamic Seattle-area non-profit organization Women Business Owners, which helps women at all stages of business be more connected, more empowered, and more successful. In April 2019, Stacia taught a virtual seminar for the group's Mentor Monday series called "When Handshakes Are Not Enough: The Why, What, & How of Written Customer Contracts."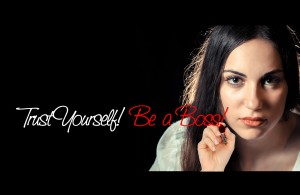 February 2019 – During the big February 2019 snowstorm, The Seattle Times interviewed and quoted Stacia about legal liability for injuries on snow-covered sidewalks. Prior to starting Cornerpoint Law in 2015, Stacia spent 10 years representing parties in slip and fall and other types of lawsuits. Her comments to the newspaper can be read here.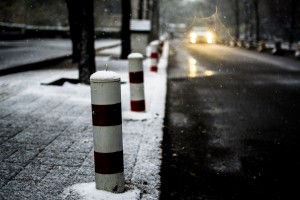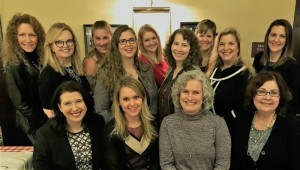 January 2019 – 2019 marks Stacia's second year on the Board as Event Co-Chair for Women Business Owners, a non-profit organization dedicated to supporting and empowering female entrepreneurs. Stacia is responsible for planning monthly luncheons and Happy Hour events.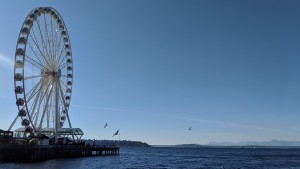 November 2018 – Wow, does time fly! Cornerpoint Law celebrated its Third Anniversary, and Stacia began her 14th year of law practice. We held a client appreciation event on a sunny Saturday at Wings Over Washington – an amusement ride featuring spectacular video of the state – followed by ice cream at Shug's Soda Fountain in downtown Seattle.
Summer 2018 – Stacia is pleased to again serve on the Board of Greater Seattle Insurance Professionals, Inc., a non-profit networking and educational organization for those in the insurance industry, as an at-large representative for the 2018-2019 year. She served as Secretary from 2016 to 2018.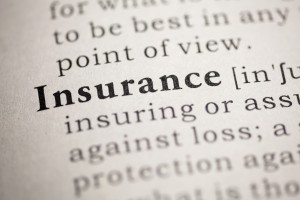 Summer 2018 – Stacia co-taught a Torts course to paralegal students at Edmonds Community College during the Summer Quarter of 2018. Read more about torts – actions (and inaction) that lead to civil liability, like negligence, defamation, trespass, and assault and battery – and how torts are part of the larger risk management process.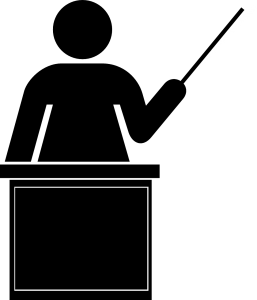 June 2018 – Stacia was pleased to be selected as a 2018 Washington "Rising Star" in the practice area of Business/Corporate law. This marks the fourth eligible year in a row that Stacia has received the Rising Star designation, which is peer-reviewed and issued by Super Lawyers®.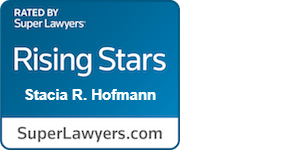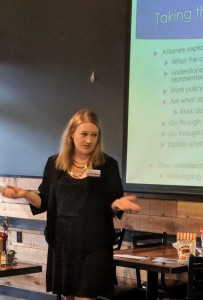 April 2018 – Stacia had the pleasure of co-presenting a continuing education class for Greater Seattle Insurance Professionals, Inc. Stacia and insurance coverage attorney Nicole Morrow covered the process of an examination under oath in the course, "Insurance Investigations — We're in This Together."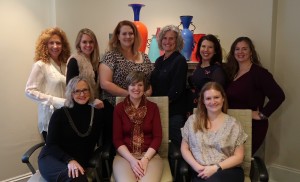 January 2018 – Stacia joined the board of Women Business Owners (WBO) as Event Co-Chair. WBO has over 150 members in the Greater Seattle area, and Stacia is excited to continue supporting women-owned businesses by bringing in engaging speakers and planning useful networking opportunities.
November 2017 – We celebrated Cornerpoint Law's Second Anniversary (and the start of Stacia's 13th year of law practice) with a client appreciation get-together at the movies. We saw the new Murder on the Orient Express – an entertaining movie and a great afternoon! A big thank you to our clients for your trust and support.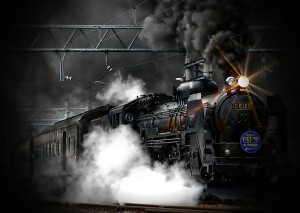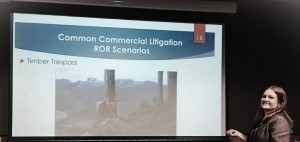 April 2017 – Stacia presented an insurance continuing education course for Greater Seattle Insurance Professionals on commercial litigation reservation of rights scenarios. Titled "Take Cover! Preparing for a Liability ROR Letter," it included a discussion of the reservation of rights process, intentional torts, the Washington Consumer Protection Act, contractual claims, and special types of damages.
February 2017 – What liability insurance protects a small business? Every business should consider obtaining general liability coverage. For many service providers, E&O insurance is a must. We're also an advocate for cyber insurance. Stacia's thoughts on these coverages, and a few others, can be found in the National Federation of Independent Business article, What Type of Liability Insurance Does Your Small Business Need? Identifying insurable risks, obtaining proper coverage, and understanding legal nuances are all part of the risk management process.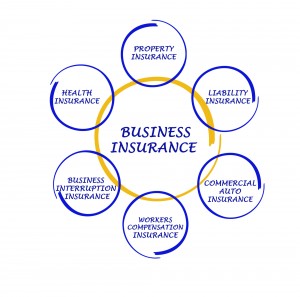 Call 206-693-2718 or email us for a free 10 minute consultation!
The materials provided on this website and on social media, including but not limited to Facebook, Twitter, LinkedIn, and Google+, are for informational purposes only and are not guaranteed to be correct, complete, or current, and should not be relied on as legal advice. Every business's circumstances are different and no results are guaranteed.