Crime and (Civil) Punishment
Unauthorized use and/or duplication of blogposts without express and written permission is strictly prohibited. Excerpts and links may be used, provided that full and clear credit is given, and with appropriate and specific direction to the original content.
When Businesses Pay for Crime: Tort Liability for Third-Party Criminal Acts
by Stacia Hofmann
Last month's $55 million jury verdict in favor of sportscaster Erin Andrews made headlines because of the verdict size, Andrews' fame, and the elaborate crime involved. Although Andrews' case is atypical in its scale and notoriety, the underlying legal themes are far from unusual.1 The verdict is a good reminder that, in our civil justice system, businesses can be held financially responsible for physical and mental injuries caused by crime. This blogpost discusses a business's tort liability to its patrons when third-parties (such as members of the public or other patrons) commit criminal acts on business premises.
What Was Andrews' Case About?
First, a recap of Andrews' case. Andrews was staying at a Marriott hotel in Nashville. Insurance executive Michael David Barrett tampered with the peephole of Andrews' hotel room, filmed her nude, and then posted the video online. Andrews filed suit against the franchise owner of the hotel and its management company, arguing that the hotel companies were negligent in allowing the incident to occur, and were therefore responsible for her resulting emotional distress. The hotel companies argued that Barrett, who was also sued, was a determined criminal and the hotel could not have reasonably prevented the crime.
Jurors heard evidence that Barrett identified himself as a member of Andrews' travel crew, and that the hotel confirmed to Barrett that Andrews was staying at the hotel. Barrett called the hotel from the hotel's house phone, and asked to be connected to Andrews' room. As he was transferred, the room number popped up on the house phone, apparently similar to caller ID. Having learned Andrews' hotel room number, Barrett then removed and altered the peephole on her hotel room door, gaining visual access to the inside of the room.
The jury decided that the hotel companies were negligent and liable to Andrews. The proportion of fault between Barrett and the hotel companies was closer than you might think. The jury attributed 51% of the fault against Barrett, and, not far behind, 49% (almost $27 million) against the hotel companies. The jury determined that the hotel companies were almost as legally responsible for the incident and subsequent violation of privacy as Barrett.2
When is a Washington or Idaho Business Liable?
Given the arbitrary and irrational nature of crime, courts do not require that businesses guarantee protection from crime. However, businesses can still be held liable if they are negligent in failing to protect a patron from a third-party's criminal act. What does this mean, and how can both of these statements be true?
A business is legally responsible for a patron's injuries caused by a third-party criminal act if the crime was foreseeable and the business did not act reasonably to prevent the crime from happening.
Generally speaking, both Washington and Idaho courts agree that a criminal act is foreseeable when any one of the following is true:
the business knows that the perpetrator has a history of violent, dangerous, or criminal propensities;
the business has a history of prior, similar criminal acts on the premises;3 or
the business creates an unreasonable risk of harm.
It is then up to the jury to decide whether the business was negligent: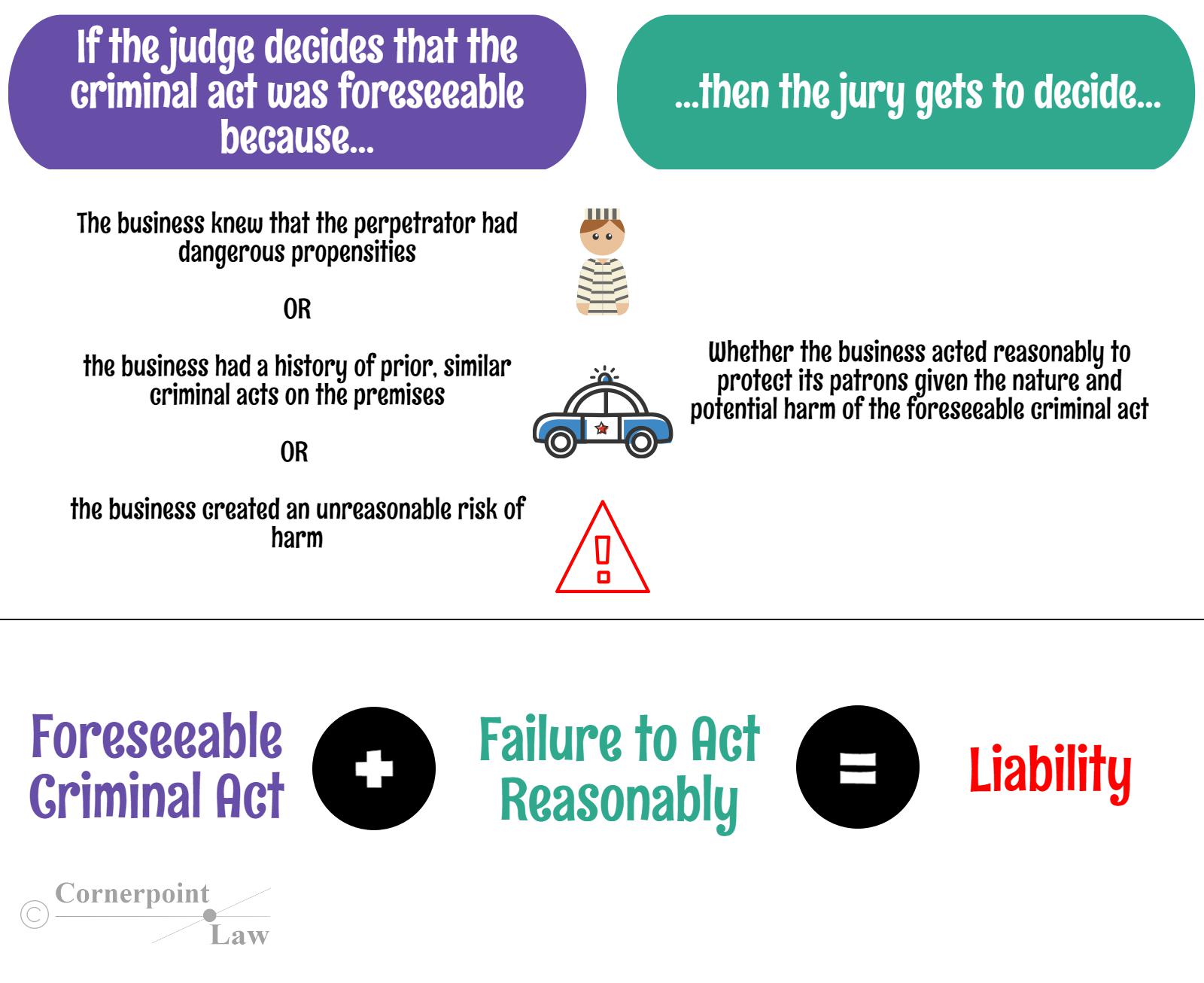 What can a business do? Check your insurance policy to see whether it covers liability for criminal acts. And an ounce of prevention is worth a pound of cure: develop and follow policies and procedures not only to protect your business, but also to protect your patrons' safety and to prevent crime. 
This blog is for informational purposes only and is not guaranteed to be correct, complete, or current. The statements on this blog are not intended to be legal advice, should not be relied upon as legal advice, and do not create an attorney-client relationship. If you have a legal question, have filed or are considering filing a lawsuit, have been sued, or have been charged with a crime, you should consult an attorney. Furthermore, statements within original blogpost articles constitute Stacia Hofmann's opinion, and should not be construed as the opinion of any other person. Judges and other attorneys may disagree with her opinion, and laws change frequently. Neither Stacia Hofmann nor Cornerpoint Law is responsible for the content of any comments posted by visitors. Responsibility for the content of comments belongs to the commenter alone.
Large verdicts against businesses in criminal assault tort liability cases do occur, especially when the injuries are severe. A King County jury returned a verdict against Denny's Restaurant for $46.4 million in 2011 for catastrophic injuries arising out of a fight and subsequent shooting — the largest personal injury verdict in the State of Washington at the time. Prior to the jury rendering a verdict, Denny's insurance company settled with the plaintiffs for $13 million. Read more here. ↩
This principle is a basic tenet of risk management: what happened in the past is a good predictor of what is likely to happen in the future. ↩