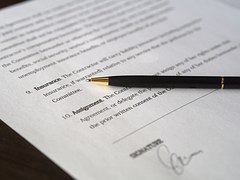 Is that contract enforceable? What are each party's obligations? What does the legal terminology mean? What happens if a party breaks a promise?
Here at Cornerpoint, we think that it's smart risk management to understand the answers to these questions before the contract is entered into: knowing a contract's worth at the outset can prepare a business in the event that its best laid plans go awry.
The law values fairness, precision, and clarity in contracts. Cornerpoint drafts new contracts and reviews and revises existing ones to clarify legal obligations, manage expectations, and provide businesses with remedies in case of a dispute.
We work with niche businesses as well as those in larger industries. Our popular contractual services include those for business transactions, employment, and the following:
Customers and Clients
Customer and client relations are a frequent source of claims and lawsuits. Cornerpoint uses contracts as one technique to lessen this risk. Releases and waivers, disclaimers of warranties, liquidated damages provisions, attorney's fee provisions, arbitration provisions, and other contract tools may be useful and beneficial to businesses.1
Cornerpoint can also help reduce credit risk – that a customer will not pay for services or products. Handshake agreements are hard to enforce. Unfortunately, the best defense for your customer might be a good offense, and your company's move to collect money may result in a strategic counterclaim against it. Using strong contract language helps prevent and weaken retaliatory claims against your business.
Third-Parties
Cornerpoint can also help transfer away the risk of tort claims brought by persons and entities who are not a party to the contract ("third-parties") but may have injuries or damages because of your business transaction. A hold harmless agreement provides that one party to the contract (Party A) pays for losses that are made against the other party to the contract (Party B) by Third-Party X. Hold harmless agreements take many different forms. They may only apply to certain legal claims, or claims arising out of a specific set of facts. They may require that Party A pay Party B for the cost of Third-Party X's losses; the cost (such as attorney's fees) to defend Party B from Third-Party X's claims; or both.
Hold harmless agreements also differ in scope. They may provide that Party A is only responsible to Party B for Party A's own negligence, for Party A's and Party B's joint negligence, or even for Party B's sole negligence. Hold harmless agreements are frequently used in business, but often lack necessary legal language, or have unintended consequences. We can navigate through the legal limitations and requirements for enforceable hold harmless agreements, evaluate the risks and benefits of these contracts, and provide recommendations as to their use.
Call 206-693-2718 or email us for a free 15 minute consultation!
The materials provided on this website and on social media, including but not limited to Facebook, Twitter, LinkedIn, and Google+, are for informational purposes only and are not guaranteed to be correct, complete, or current, and should not be relied on as legal advice. Every business's circumstances are different and no results are guaranteed. Cornerpoint Law does not provide accounting, engineering, or information technology services, but may recommend that your business consult with qualified professionals in those fields. Furthermore, patent law, environmental law, and bankruptcy law are not included in Cornerpoint Law's practice areas, and Cornerpoint Law refers those legal services to other attorneys. 
Generally speaking, in a release or waiver, a party forfeits or limits their right to make a claim against a business; in a disclaimer of warranty, a business limits default legal obligations to others; a liquidated damages provision sets forth the damages for breach of contract; an attorney's fee provision provides that the winning party's attorney is paid by the losing party; and in an arbitration provision, the parties agree to have an attorney, rather than a judge or jury, decide the case. ↩